Perspective: Wheel vs. Duck
&nbsp&nbsp&nbsp&nbsp&nbsp&nbsp&nbsp&nbsp&nbsp&nbsp&nbsp&nbsp&nbsp&nbsp&nbsp&nbsp&nbsp&nbsp&nbsp&nbsp&nbsp&nbsp&nbsp&nbsp&nbsp&nbsp&nbsp&nbsp&nbsp&nbsp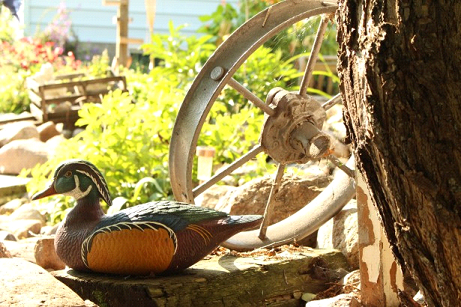 The squeaky wheel.
Most Americans are thinking, "… gets the grease." Most of us grow up knowing this American adage.
Did you know the Chinese proverb is "The loudest duck gets shot" and the Japanese saying is "The tallest nail gets hammered down"? Think about what this might mean for someone raised in one of these Asian countries who is now in the United States.
Some people might say that if they are living in this country, they need to learn our customs and abide by them. This is easy to think. Having traveled to other countries, I had a difficult time with just language and navigation. Learning customs was an advanced skill and I barely managed with the basics
Then, can you imagine if those same people would think visitors or new immigrants in a country should follow the land's customs if they were dying in a Chinese emergency room?
This is only one example of a difference in perspective. This is a cultural contrast between Chinese and American traditions. Now think of all the different countries and contrasts that could be represented in your office. Then, broaden even further into language. For example, if we table a discussion in the United States, we know we will postpone discussion until later. In Britain, tabling means you are requesting immediate action. These are the same word in the same language with close to opposite meanings!
Workplace diversity may also include different perspectives in academic backgrounds, socio-economic backgrounds, religions, age/generations, technological ability. and so much more!
In communicating in the work place, please remember that others may be coming from a different perspective. We all have our own lenses that focus in different ways and on different things - and it makes us all unique and special
To learn more about different perspectives and how to maximize them in the workplace, email Please email Mako & Associates at DeeAn@MakoEd.com or 206-992-7484.