Managing Up
&nbsp&nbsp&nbsp&nbsp&nbsp&nbsp&nbsp&nbsp&nbsp&nbsp&nbsp&nbsp&nbsp&nbsp&nbsp&nbsp&nbsp&nbsp&nbsp&nbsp&nbsp&nbsp&nbsp&nbsp&nbsp&nbsp&nbsp&nbsp&nbsp&nbsp&nbsp&nbsp&nbsp&nbsp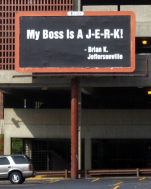 Most researchers agree that a bad relationship with management is the number one reason why employees quit their jobs. Management should give your work direction and evaluate your performance on a regular basis. If you are not seeing that type of care and attention it sours the relationship, impacts your work, your personal life and at some point, will have you looking for a new opprotunity.
To effectively manage up, start by developing a relationship with your supervisor and others in management roles. You do not have to be friends or social, that can make working relationships more challenging, but you do have to be able to work effectively together. In The 7 Habits of Highly Effective People, Dr. Stephen Covey states you should build an emotional bank account.
A strong work ethic, good communications and a record of job performance can build credibility and trust with your supervisor. On the other side, being consistently tardy, lazy or having a record of gossiping in the workplace can detract from your ability to work well. Think about it, would you take advice or suggestions from someone you do not trust and do not respect?
Like with other communication skills, think from the other person's perspective. People tend to get invested in arguing their own perspective forgetting to hear the other person. If we prepare from the other person's perspective, they are more likely to hear our suggestions and the rationale for why ours is a good idea.
Learn about your supervisor as a person. We all have temperaments and preferences. Knowing about preferences and moods can help us - especially if what they want is different than our preferences. For example, in writing emails, I like having the written documentation and having all of the information in one place. I knew my supervisor was getting a large number of emails and needed to know the summary of message from the beginning. She needed to know what she needed to do and what she needed to know. She did not like the waste of time to dig for the information she needed. We came up with a plan where at the beginning on my emails, I wrote a one-line summary for her and then followed up with the details so she could decide based on the summary what more she needed to read and could have the email for documentation. Now, even many of our personal emails between friends uses this same format because it has been this effective for us. Another example is knowing I am an extrovert, when working with an introvert, I know I need to talk through things before meeting with my supervisor and I need to provide my boss time to process new information.
Know what you can about THEIR job. If you can, create a plan of what you want to have happen, provide examples and support and provide it to your supervisor prior to the meeting to allow time to review before your meeting. Make sure you are using what you know about their schedule. For instance, the worst time to bring up new ideas to an accountant would be during tax time. Help your supervisor best support and assist you.
If you build a relationship with management and you are respectful their perspectives, life and job, you are more likely to be able to have a successful work relationship. You may not always agree. You may even argue. With a foundation of trust and respect, you should be able to proceed. If not, you may need to consider that this job is not the best fit for you and you may need to explore other job options.
To learn more about working well with your supervisor, visit our website at www.makoed.com, email Mako & Associates at DeeAn@MakoEd.com or 206-992-7484.