Just My Type: The Outside World
&nbsp&nbsp&nbsp&nbsp&nbsp&nbsp&nbsp&nbsp&nbsp&nbsp&nbsp&nbsp&nbsp&nbsp&nbsp&nbsp&nbsp&nbsp&nbsp&nbsp&nbsp&nbsp&nbsp&nbsp&nbsp&nbsp&nbsp&nbsp&nbsp&nbsp&nbsp&nbsp&nbsp&nbsp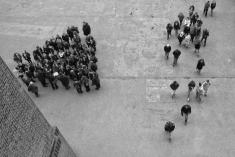 How do you approach a work goal once assigned? Do you make a plan with a timeline or do you tend to jump in and wing it? What about the people you work with or manage? Do you find yourself wondering just how Susan accomplishes anything with that attitude? Maybe it is just you. The Myers-Briggs Type Indicator (MBTI) Judgers (J) and Perceivers (P) have very different approaches to how they interact with the outside world and may well be what you are reacting to when watching Susan work with her deadline.
First, understand that no one type is inherently better than the other. There are people with both preferences who might be lazy or micromanaging. Many of the organization how-to manuals seem to have been written by judgers so their suggestions mostly come from that perspective but both types may be very accomplished. They likely just approach the work in very different ways.
Being a judger means you are more likely to prefer life in a planned and orderly way. You are more structured and prefer to have things settled. You enjoy getting things done.
Being a perceiver means you are more likely to prefer more flexibility and spontaneity. You want to experience life and tend to think detailed plans or too confining. You enjoy being resourceful and in the moment.
Using a closet as an example, a judger will likely have all clothes neatly hung, neatly facing the same direction, likely sorted by type of clothing and color. A perceiver is not as likely to have all clothing in the closet - much less hung and sorted but is still likely to know where to find what s/he is looking for. Looking at the other type's closet, both types are probably casting judgements such as uptight or sloppy but what is most important is that the system they have chosen works for them. Notice the key phrase here, the system used actually has to work for the person - the work should still be done and done well.
In the workplace, there is a higher expectation for characteristics normally associated with a judger. Managers may expect a tidy and organized work area with task goals completed at regular intervals. These are not natural characteristics for Perceivers. While more likely to have a different perspective and approach, Perceivers are not likely to work in a systematic way.
Both Judgers and Perceivers will finish goals in a timely way. Judgers will usually work in a balanced and systematic way. Perceivers will usually do a "cram" session just before the deadline. Both images below represent the same amount of passing time. The first image of a straight line represents the typical work pattern of a Judger. The second image represents the typical work pattern of a Perceiver - not predictable and may even seem like procrastinating or moving backward but works hard to complete on time.
| | |
| --- | --- |
| Judgers Method | Perceivers Method |
Both types bring very important perspectives to work teams but have very different approaches. With a better understanding of the strengths and needs of both types, work groups can be stronger and more effective.
To learn more your Myers-Briggs Type Indicator from a certified MBTI Practitioner, email Mako & Associates at DeeAn@MakoEd.com or text/call 206-992-7484 to develop customized training opportunities.