Just My Type: The Original
&nbsp&nbsp&nbsp&nbsp&nbsp&nbsp&nbsp&nbsp&nbsp&nbsp&nbsp&nbsp&nbsp&nbsp&nbsp&nbsp&nbsp&nbsp&nbsp&nbsp&nbsp&nbsp&nbsp&nbsp&nbsp&nbsp&nbsp&nbsp&nbsp&nbsp&nbsp&nbsp&nbsp&nbsp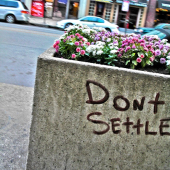 Have you ever taken a personality test? There are a lot of them online. As a consumer, you see this type of marketing language all the time where you are encouraged to compare a store brand with a national brand. You know they are different but think hard about how different and if it would be worth the price difference.
The free personality test versions available on the web are not the Myers-Briggs Type Indicator (MBTI). They do not have the credibility, the validity or the depth of the MBTI. The MBTI can seem costly but with the free versions, you tend to get what you paid for. With the real thing, the results are worth the costs. And, the prices are not that high.
I first took the MBTI as a freshman in college and thought the results were so accurate, it freaked me out. I used the information to think about what would be most helpful to me and tried very hard to learn what I could over the years. I even tried to help others understand their types to help to benefit them. When I became a certified practitioner, I learned how little I really knew and that a great deal of my "knowledge" was not authentic MBTI data and what that meant.
Online research was just wrong. For example, I learned online that approximately ¾ of the population were extroverts and ¼ were introverts. The truth is that the population is split close to the middle. Introverts, who can already feel less valued or stigmatized as standoffish, can be made to feel even more alone and less important if they think they are outnumbered 3 to 1. The truth is that extroverts may be louder and more visible but are only half the population. To discount introverts would be to devalue many people. Some people may forget that while extroverts process information quickly and with others, introverts think things through and may need additional time, but the results are classically well worth it.
First, you need to know your true type. You need to learn about how to take the assessment and how to choose your preferences. For more information on this, please read last week's article, Just My Type: Your Choice.
After you choose your type, then learn how to make it make sense and feel like you made the right choice. For example, when I was becoming certified, I learned an activity that made it all make more sense. You can try it at home and see if it rings true with you. Take a pen and paper and sign your normal signature. Think about how it felt. Now, try to do the same with your non-dominant hand and think about how that felt. While I know I could get better if I practiced with my non-dominant hand and could even get really good at it, I knew it would take a lot of work. The same is true with your non-natural preference type. While I am a perceiver, I have worked hard to be more structured and organized at work - developing my inner judger.
WOW! The difference between my natural inclination and my learned skills helped me to understand what I needed to work on and why. And, that is only one example. I am very glad that I started with the real thing so I had a more solid foundation. Learning the fallacies of the alternative assessments helped me appreciate how much better the MBTI is at learning about myself and others. The MBTI activities make so much sense to approach the knowledge in more fun, practical ways that make a lasting impression.
Then, I learned about the Step II which breaks down each preference into specific facets to drill even further into yourself. Then, I learned about being "In the Grip" which is how your type is affected when you are stressed. The more I learned, the more I found out there is still to learn and the more excited I have become to share this knowledge with others! I am excited on what I will continue to learn and how I can help others better understand themselves and the people around them. Step II and being in the grip are among topics in future articles.
To learn more your Myers-Briggs Type Indicator from a certified MBTI Practitioner, email Mako & Associates at DeeAn@MakoEd.com or text/call 206-992-7484 to develop customized training opportunities.