Just My Type: My Energy
&nbsp&nbsp&nbsp&nbsp&nbsp&nbsp&nbsp&nbsp&nbsp&nbsp&nbsp&nbsp&nbsp&nbsp&nbsp&nbsp&nbsp&nbsp&nbsp&nbsp&nbsp&nbsp&nbsp&nbsp&nbsp&nbsp&nbsp&nbsp&nbsp&nbsp&nbsp&nbsp&nbsp&nbsp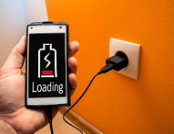 What will help you energize during a long day? What will sap your energy even at the start of a well-rested night? Think about how knowing this can help you cope well with the daily rigors of a stressful work day. The Myers-Briggs Type Indicator (MBTI) can help you better understand what gives you energy and how it gets expended. Extroversion and introversion are the terms used to explain.
Have you heard the terms extrovert and introvert? Many people do not really understand what they mean. They tend to think extroverts are outgoing and introverts are shy, and some are quick to judge others based on these ideas. While extroverts may be more naturally outgoing, introverts can be just as social. While introverts more naturally need to spend time alone, extroverts may also need alone time. So what do these words really mean?
Extroversion means the person gains and directs energy while engaging with others. Introversion means the person recharges while alone. For example, I am an extrovert. I was scheduled to give a presentation and when I walked into class that early Saturday morning, my professor was concerned when he saw me. He thought I may be too tired to be able to be effective. He was shocked that as soon as I stepped in front of the group, I was instantly alert and engaged. He was not surprised that I was prepared but later told me that he thought I was ill when I walked in. My professor was an incredibly caring person who was an introvert and he was thinking that if he was in my shoes, he would not be able to present himself well.
Many of us think others are like us and may get angry or confused when people do not act or react the way we expect. Imagine a gathering of work colleagues. Extroverts tend to be more visible and enjoy interactions so how could that make introverts feel? Well-intentioned extroverts even try to invite and welcome introverts into group settings but may feel snubbed or otherwise unhappy when the introvert declines. Maybe the introvert is overwhelmed. Maybe the timing is off. Can you imagine how it would be received if a well-intentioned introvert invited an extrovert to be alone?
The way we gain energy is also connected with how we process information. Extroverts usually prefer to talk things out with others to have them make sense so brainstorming work sessions where they have a chance to engage and piggy-back from others is a way they thrive. Introverts tend to prefer take time and internalize the information until they have a chance to formulate a complete thought. Having both extroverts and introverts process information and participate in planning tends to utilize the different perspectives to create a more complete plan. This also means that to be best engaged in the process, introverts do better if the materials are supplied in advance to allow time to research and prepare.
Just for clarification, the reason I consistently discuss extroverts first is not because I am extroverted but rather for consistency. The MBTI tool is consistent that in the preference pairs, E (extroversion) and I (introversion), E comes first. S (sensing) and N (iNtuitive); T (thinking) and F (feeling); and J (judging) and P (perceiving) are the other preference pairs and are discussed in that order for each pairing also.
This is just one of the preference pairs in the MBTI. This series will be exploring more on the others in upcoming weeks.
To learn more your Myers-Briggs Type Indicator from a certified MBTI Practitioner, email Mako & Associates at DeeAn@MakoEd.com or text/call 206-992-7484 to develop customized training opportunities.